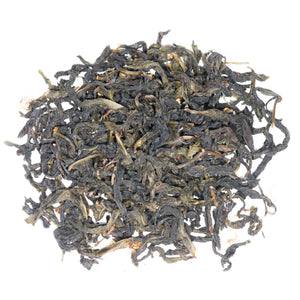 BAOZHONG WULONG Osmanthus is certified organic and produced by tea farmer Mr. Chen in the NanGang district, one of the oldest tea making areas in Taiwan.  
The scent of osmanthus flowers is a predominant note of this tea, giving it a sweet and strong fruity (e.g. peachy) aroma. The mouthfeel is smooth without being creamy, making it well balanced with the sweetness. There is little bitterness or acidity. Osmanthus helps the tea keep its flavor strong through multiple steepings.     
Playing with brewing parameters is especially fun for this tea. Due to the interplay between the "osmanthus flower" and the tea leaves (ChinXin oolong subvariety), the expression of this tea can change quite significantly. Experiment to see where the aroma of the osmanthus, which can be quite strong, balances and accentuates, instead of dominating the tea's flavor.
For tea drinkers who enjoy jasmine or floral teas, BAOZHONG WULONG Osmanthus is definitely worthy of exploration! 
Region: NanGang district (northern Taiwan)

Oxidation: Light (~15%)
Tea Plant: ChinXin Oolong sub-variety
Roast: Minimal / Oven