Collection:

(7) PREMIUM TEABAGS
Brewing with teabags in this collection is a great way to explore the different flavors of Taiwan's oolong teas. Focus is on convenience and the tea's flavor rather than tea preparation or associated tea wares. By trying these teabags, you can quickly discover the type(s) of Taiwan oolong teas you best enjoy.
Teabags are also fast to prepare. Less steeping time is needed because the loose cut tea leaves in teabags release flavors faster than traditional loose tea leaves, especially those shaped into semi-ball forms. It is well suited for moments when you are focused on other tasks or when you are drinking tea alone. 
All the teabags can be cold-brewed to make a refreshing beverage. In particular, the High Mountain Wulong's clean and mildly sweet flavors really shine when prepared as a cold-brew drink.
WULONG Harmony Tea Bags
WULONG HIGH MOUNTAIN Tea Bags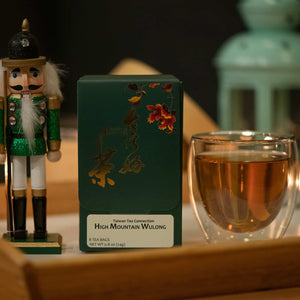 WULONG SAMPLER Tea Bags