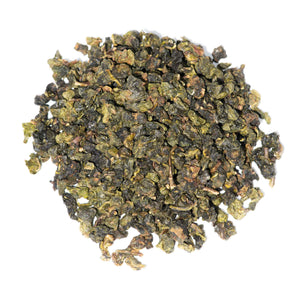 FOUR SEASONS SPRING refers to a tea plant varietal as well as the tea's actual name. It is known for its floral aroma and delicate taste. This tea is produced by Mr. Hsieh, a 3rd generation tea farmer with family history in MingJian townshipfor over 100 years.
The brewed tea is pale golden with a green hue. Floral fragrance fills your mouth and lingers in your throat. The tea is smooth with no bitterness. This is an easy to drink tea, which will transport you to spring during cold wintry months. This tea was lightly roasted to preserve its natural fragrances. 
The floral aroma of Four Seasons Spring is reminiscent of magnolia. Flowers generally used to describe Four Seasons Spring's aroma include jasmine, magnolia, and gardenia. You may find its flavor profile similar to the more expensive BaoZhong oolong tea.
Region: MinJian township, Lugu County (central Taiwan)
Oxidation: 25~35%
Tea Plant: Four Season Spring [Chinese:  四季春 "ShiJiChuen"]
Roast: Light / Oven
Note: Fragrance plays a critical role in enjoying this tea. For maximum enjoyment, we suggest that you consume the tea within 2-3 weeks of opening.