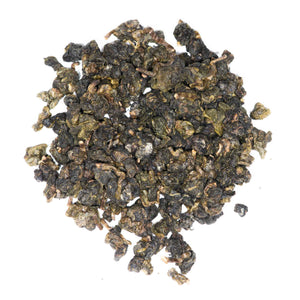 HIGH MOUNTAIN WULONG ShanLinXi Roast is grown and harvested from ShanLinXi Mountain, with elevation above 1800 meters (5900 feet) in central Taiwan. Blessed with a perfect climate, perpetual fog and mist, and soil rich with minerals and organic substances, tea leaves in ShanLinXi Mountain grow thick and rich in nutrients.
This tea was roasted by Mr. Lin, an artful master in Tung Ting style roasting from Lugu township. The result is a full-bodied high mountain tea with the roasted lingering characteristics of a Tung Ting oolong.
ShanLinXi Roast is lightly oxidized to help release its elegant floral aromas. The tea tastes sweet with lots of "umami," a result of abundant amino acids. It is smooth with a full body, and smokey nutty aromas contribute to a pleasant lingering. Mr. Lin's artful roast creates a tea that tastes elegantly "clean" without losing subtle complexity.
Region: ShanLinXi Mountain, Lugu County (central Taiwan)
Oxidation: Light (~25%)
Tea Plant: ChinXin Oolong varietal
Roast: Light to Medium / Oven