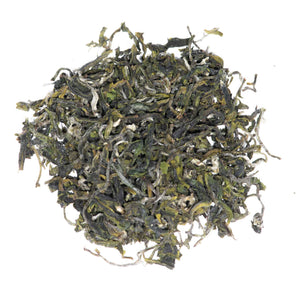 TAIWAN GREEN BiLuoChuan (trans. Spring Jade Snail) is made by Mr. Ong, a tea farmer in the SanXia region. Mr. Ong has won numerous local and nationwide tea competitions since he was in his 20s.
TAIWAN GREEN BiLuoChuan, unlike BiLuoChuan tea sold in China, tea leaves are not rolled into snail shapes. The leaves are colorful and shaped like narrow strips. Tender buds with lots of downy hairs look white against various shades of green.
This tea has the mild sweet vegetal notes characteristic of pan-fried green tea. (*See note below.) Its flavor is light yet with a distinct character. The sweetness is enhanced by a sugar-cane and citrusy aroma. A hint of bitterness provides a nice balance. The body is medium with a smooth mouthfeel.
Unlike many green teas, this tea can be brewed at very hot temperatures without becoming overly bitter. Tea drinkers who enjoy a certain level of bitterness should experiment with brewing at higher temperatures.
To find out more about Taiwan's BiLuoChuan tea, check out a blog post which discusses this tea in further detail.  
Region: SanXia District, New Taipei (northern Taiwan)
Oxidation: None
Tea Plant: ChinXin GanZai (trans. "Blue Heart Citrus Type")
Roast: None
*Note: Pan-fried green teas include China's BiLuoChuan and LongJin (aka Dragonwell) green tea. They are different from steamed-processed green teas, which is how most Japanese green teas are processed. The different processing methods, as well as tea plants used, create different flavor profiles.