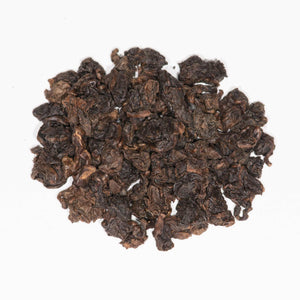 TIEGUANYIN WULONG Premium is a unique collaboration between China and Taiwan. It is made from TieGuanYin sub-variety tea leaves imported from Fujian's Anxi region and further processed in Taiwan by Mr. Chen, an expert in Taiwan oolong teas.
There are two major types of TieGuanYin [aka Iron Goddess of Mercy] on the market today. One is Anxi (China) TieGuanYin, lightly oxidized and akin to green tea. Another is Taiwan TieGuanYin, a bold tea made using the process brought over from Anxi 200 years ago - medium oxidation and heavy roasting at high temperatures.
TIEGUANYIN WULONG Premium is flavorful with a strong character, both in aroma and taste. You can quickly notice its roast and fruity aroma when smelling the dried tea leaves. This tea is complex with an enchanting "GuanYin Yun" ["Yun" translates to melody, or changing rhythm of flavors]. The tea begins sweet and floral with fragrances of magnolia and osmanthus, then transforms to the fruity sourness of ripe plums. There is a mild bitterness, and the mouthfeel is smooth and full-bodied. The roast is smokey and nutty. Its interesting flavors can last through many "hard" steepings.
Even though the roast is heavy, it is well balanced with the tea's complex flavors. The caramelization and acidity of the roast accentuates the leaves' tangy flavor, giving a nice acidic "punch" that stimulates the sides of your mouth and creates a long pleasant lingering.
This tea is unique amongst Taiwan TieGuanYin because the production method and tea leaves work together to produce the characteristic complexity that have enchanted numerous Taiwanese tea drinkers. Today this complexity is sadly lost in many Taiwan TieGuanYin, generally dominated by a very strong roast.
Region: Tea leaves from Fujian, China; post-production roasting in Taiwan
Tea Plant: TieGuanYin varietal (aka "Real Bush")
Oxidation: Medium
Roast: Heavy / Oven
 * Note: For more info on Taiwan's TieGuanYin, you may be interested in my blog post on this subject.